The USA has an Orwellian named agency called the Department of Justice.  It is heavily influenced by money and, as a bureaucracy, is dedicated to justifying its existence.
This means two things: Rich, guilty people can buy off justice, and poor, innocent people will be sent to prison. It's just how it works.
It's a bureaucracy – and prosecutors are promoted by the number of convictions and the amount of seized money they get.
You can't seize money from poor people, so you go for the stats and put them in prison.
You can get money from rich people, so you make deals to let them skate or almost skate and take money from them.  It's more like a Department Store of Justice.
Let me give you an example.
Next to Keith Alan Raniere, Clare Bronfman is the most guilty and vicious of the Nxivm racketeering enterprise co-conspirators.
She paid a $6 million fine and was giving a sweet plea deal with a sentencing guideline of 21-17 months – which may end up being the lightest sentence of everyone in the group she was indicted with.
Compare her to Lauren Salzman, a minor pawn in Nxivm. Lauren is facing sentencing guidelines about double Clare's – in the 5-year range.
Why?  Because Lauren has no money to seize. She is merely a conviction stat. [2 felonies + 5 years = 7].
But Clare Bronfman and her sister Sara Bronfman-Igtet are the main reason why Nxivm became so powerful and dangerous [Sara did not get charged].  It would have not existed but for them.
Clare got off lighter than Nancy Salzman, Allison Mack, Lauren, and maybe even their hapless bookkeeper Kathy Russell.  But Clare paid $6 million.
Pedophile Jeffrey Epstein
Let me give you another example of how justice is sold at the Department of Justice: Jeffrey Epstein, the politically-connected, billionaire hedge fund manager.
Raniere – whose most significant crimes were that he had sex with a 15-year-old girl [Camila] and sex trafficked a 30-year-old woman [Nicole]. For the latter crime, Raniere will go to prison for a minimum of 15 years.  If he had Epstein's money, the outcome would have been different.
While Raniere raped Camila [and Rhiannon and several other little girls over the years], Epstein raped scores of children.
But Epstein had a billion dollars and was friends with Bill Clinton, Prince Andrew, Donald Trump, and other powerful people.
He Was on Track for Life in Prison
Following an FBI investigation, in 2008, Epstein was accused by the DOJ of luring more than 30 underage girls for sex acts at his Palm Beach, Florida, mansion and elsewhere in the United States and overseas.
He even enlisted girls in kind of a multilevel marketing scheme to lure more girls for him.
Unlike Raniere, who is going to serve most likely a life sentence in federal prison, Epstein served only 13 months in a county jail.
In Epstein's case, after FBI agents found Epstein had sex with dozens of little girls, he too was facing life in prison.
Then higher-ups at the Department Store [DOJ] went to work. They arranged to have him charged by the State of Florida instead of the feds, dropping all federal charges that, if he had been convicted, would have sent him away for life.
Epstein pleaded guilty to two state prostitution charges and got a non-prosecution agreement from the Department of Justice.
Epstein did do some time – and this proves even the rich can only purchase so much justice. He served his 13 months at the Palm Beach County jail.  Happily, he was able to maintain his billions because, while serving his sentence, he was granted a work release that enabled him to leave jail six days a week, 12 hours per day, to go to work at his Palm Beach office.
The Miami Herald found this somewhat unfair – and did their own investigation [and published their findings in a series titled Perversion of Justice] – and identified 80 females who said Epstein sexually abused or molested them between 2001 and 2006, when they were under 18 [the age of consent in Florida], some were as young as 13.
It was President Trump's present Secretary of Labor, Alex Acosta who was the U.S. attorney in Miami at the time the sweet deal of Epstein was made.
To make the deal, Acosta had to break the Crime Victims' Rights Act by not informing Epstein's 36 victims of the agreement to drop federal charges – and charge him only at the state level for soliciting two prostitutes.
In arranging the deal, the DOJ offered Epstein a federal non-prosecution agreement.
Last February, federal Judge Kenneth A. Marra ruled that the DOJ had violated the Crime Victims' Rights Act by giving Epstein immunity, without informing the victims about the deal.
When asked how Labor Secretary Acosta [when he was US Attorney under Bush] could cover up and save the child rapist Jeffrey Epstein, President Trump told reporters, "I really don't know too much about it. I know that [Acosta] has done a great job as labor secretary and that [the child raping dating back to 2001- 2006] seems like a long time ago."
In fairness to Acosta, he did not work alone. The Main Branch of the Department of Justice issued a statement that said, "the U.S. Attorney's Office for the Southern District of Florida['s] [actions in saving Epstein] were approved by [DOJ] leadership and followed departmental procedures."
During his 2017 confirmation hearing for secretary of Labor, Acosta responded to questions about the Epstein case by saying his office chose not to prosecute the case because he believed that the young victims were too scared to testify.
But how would he know?  Acosta never bothered to tell the 36 victims that Epstein was not going to be prosecuted.
Acosta said, "At the end of the day, based on the evidence, professionals within a prosecutor's office decided that a plea that guarantees someone goes to jail [13 months], that guarantees he register (as a sex offender) …  and guarantees other outcomes, is a good thing."
What were the other outcomes? And how much did those outcomes cost Epstein? And who collected the "outcomes"?
Epstein's lawyers included Alan Dershowitz and Kenneth Starr.
As for victims being too scared, it is a fact that the Department [Store] of Justice entered into a non-prosecution agreement with Epstein without conferring with victims during the negotiation and the signing of the deal.
In fact, the Department of Justice actually sent letters to the [too sacred] victims requesting their 'patience' with the investigation. Those "too scared" victims wanted to see him prosecuted and some of them were evidently quite anxious to testify.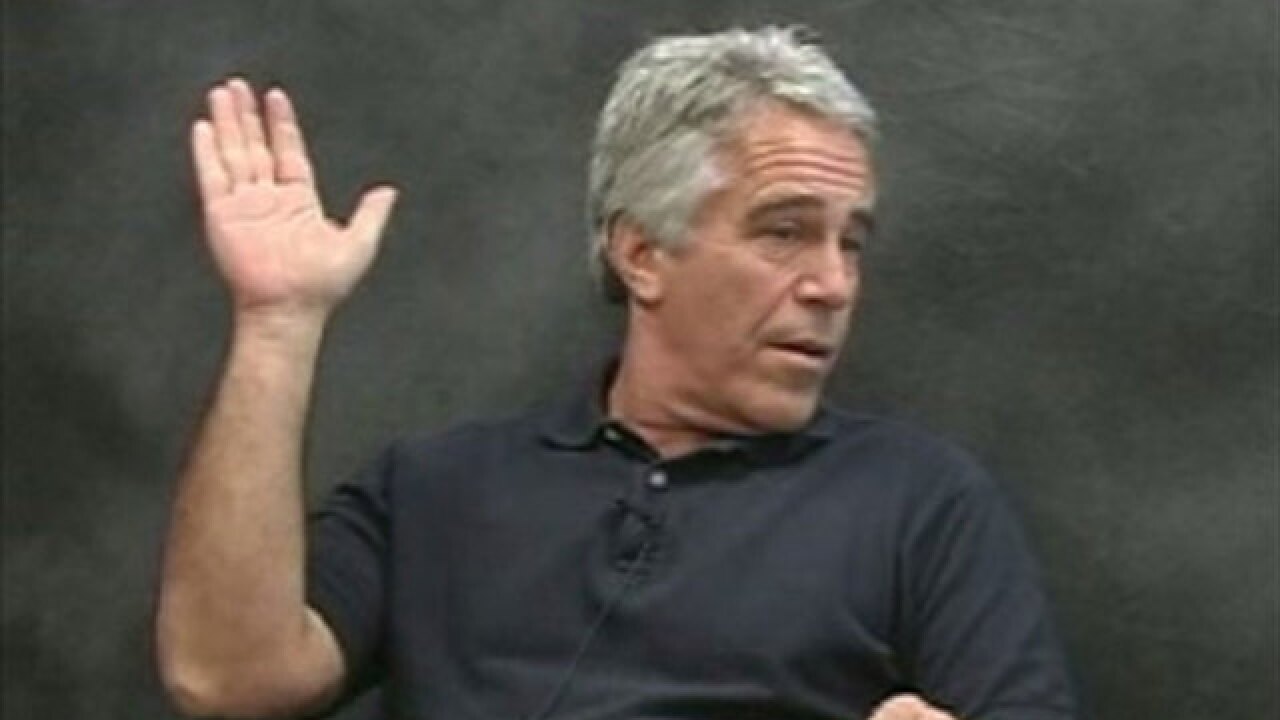 Meantime, Keith Raniere is to be sentenced in September. Clare Bronfman's sentencing has been indefinitely postponed.