Between June 2015 and June 2019, in Los Angeles County, Rev. Naason Joaquin Garcia, the head of La Luz del Mundo church, known among his followers as "the Apostle," is alleged by the California attorney general's office to have organized a group of the church's teen girls to serve him sexually.
The Attorney General's office alleges the girls, also known as "the dancers," among other activities, would dance or perform skits for Rev. Garcia while in lingerie or partially nude.
Allegedly, the dancers, who were about 15 years old, did much more than dance.
Garcia, 51, is being held in lieu of $90 million bail and faces charges of human trafficking, forcible rape and forcible oral copulation of a minor, and possession of child pornography.
Superior Court Judge Ronald S. Coen set a Sept. 27 trial date for Rev. Garcia and one of his codefendants, Susana Medina Oaxaca. The prosecution estimates the trial could last up to seven weeks.
At an earlier bail hearing, Superior Court Judge David Fields decided Rev. Garcia was guilty before going to trial.
Judge Fields said, "This is a man who preyed on young girls. Religion was used against these girls. They were told that if they didn't comply [sexually], they were sinning."
Judge Fields determined Rev. Garcia's guilt before trial based on the testimony of state law enforcement officer and forensic examiner Steven Stover who said that a video found on an iPad seized from Garcia shows the church leader having a threesome with a woman and an underage male.  Stover also testified that he found child pornography on an iPhone taken from Garcia. One video found on the phone shows females "of a very young age" performing sexual acts.
Four Defendants — Three Are Women
Rev. Garcia has been charged, along with three women, members of his church, who allegedly helped manage and groom the girls –Alondra Ocampo, 38, Susana Medina Oaxaca, 26 and Azalea Rangel Melendez.
Melendez, who was also charged with rape, is a fugitive. She is being sought by authorities.
Oaxaxa will stand trial along with Rev. Garcia, and maintains her innocence. She is free on bail.
Ocampo, who is being held without bail, pleaded guilty to three counts of contact with a minor for a sexual offense, involving three Jane Does, and one count of forcible sexual penetration, involving a fourth Jane Doe.
The terms of her plea deal have not been announced. She may testify for the prosecution.
Ocampo, allegedly was in charge of the exclusive teen group.  She said she suffered years of sexual abuse in the church as a minor, her attorney Fred Thiagarajah said.  He alleged that Ocampo was raped at age eight by Rev. Garcia's father –the famous Rev Samuel Joaquin Flores, who led the church until his death in 2014.
Father
 
Son
Rev. Garcia represents Jesus as his apostle, he says.
Prosecutors allege the teen girls engaged in sexual activity with Rev. Garcia under duress from the women defendants and that the girls were told that if they went against Rev. Garcia's desires, they were going against God.
In court papers, prosecutors allege the group of young girls also assisted with household chores at his East L.A. home.
Rev. Garcia and his three female co-defendants are all affiliated with La Luz del Mundo — Light of the World — which is the largest evangelical church in Mexico. It has branches in 50 countries and more than one million members.
The church headquarters is in Guadalajara, Mexico, and the church steadfastly backs Rev. Garcia.
The church put out a statement that read in part: "His innocence will be demonstrated and he will be acquitted."
Rev. Garcia was arrested in the summer of 2019 at the Los Angeles International Airport.
Alondra Ocampo said she was sexually abused by Rev. Garcia's father when she was eight. Will that get her off the hook for grooming 15 year old girls?According to the criminal complaint:
Allegedly:
Children were told to perform "flirty" dances for Rev. García while wearing "as little clothing as possible."
García gave a group of children "a speech about a king having mistresses and stated that an apostle of God can never be judged for his actions."
Ocampo directed JANE DOE 1 and other minors to take off their clothing and touch each other sexually.
Ocampo took photos of minor girls touching each other sexually and sent the photographs to Rev Garcia
Ocampo called JANE DOE 1 to the home of Rev. Garcia and asked her to serve him coffee in his office,
Grabbed the coffee JANE DOE 1 was holding, and told JANE DOE 1 to remove her dress and then returned her coffee.
When she entered the office, Rev. Garcia put his arms around her, kissed her on the lips, touched her buttocks and attempted to touch her vagina.
Rev. Garcia and Ocampo raped and did perform forcible oral copulation of JANE DOE 2, a minor.
Ocampo sent a message to JANE DOE 1, JANE DOE 2, and JANE DOE 3 saying the photos were for "the servant of God" [Rev. Garcia] and that he would be really happy if they sent Ocampo nude photos.
Ocampo told them to take photos without their underwear and with their legs open, and to send the photos to her.
Ocampo took JANE DOE 1, JANE DOE 2, and JANE DOE 3 to an office building, provided them with school girl outfits, directed them to touch their own breasts and buttocks, as well as each other's, and took photos.
Ocampo took JANE DOE 1, JANE DOE 2, and JANE DOE 3 to Rev. Garcia's home and told them to remove their clothing.
Ocampo took JANE DOE 1, JANE DOE 2, and JANE DOE 3 to a hotel and had them take off their clothing touch each other's breasts and vaginas, and lick whipped cream off each other's breasts.
Ocampo took photos and told the girls the photos were for Rev., Garcia.
Rev, Garcia later thanked JANE DOE 1, JANE DOE 2, and JANE DOE 3 for the photos he received of them.
Rev. Garcia and Melendez Rangel raped JANE DOE 4 and committed the crime of forcible oral copulation
'Defamatory and False' Allegations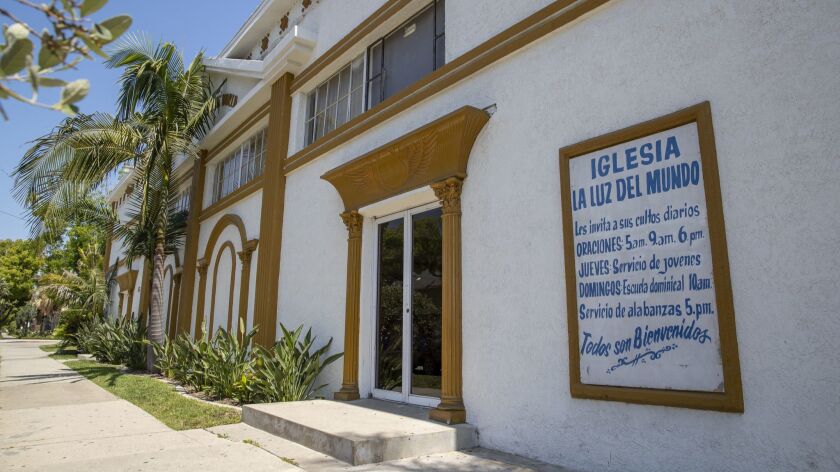 Various church members have spoken to the media about their leader since he has been arrested.
Silem Garcia, a spokesman for La Luz del Mundo, told reporters in Mexico City that the church and its members "consider these accusations defamatory and a calumny against our international director, the Apostle of Jesus Christ. We believe firmly in the innocence of the Apostle of Jesus Christ."
In East Los Angeles, spokesman Ashley Valdez said the allegations against "the Apostle" were false and that the church trusts that the legal system will find Naason Garcia innocent.
"The Apostle of Jesus Christ has always adhered to the law," Valdez said.  "He is the mouthpiece for God."
In Santa Ana, David Salazar defended Garcia. "He is a man of God," said Salazar. "It's not true…. It's just meant to discredit him."
Another congregant Francisco Lucas said Rev. Garcia's tribulations are nothing new. "Apostles have long been persecuted."
Attorneys Chastise AG
Ken Rosenfeld, García's lead attorney said, "We are resolute in our belief that Naasón Joaquín García is 100% innocent of the scurrilous allegations against him. We have met with countless individuals that have personally observed Mr. Garcia's behavior over the past decades and they are incredulous about these accusations,"
California Attorney General Xavier Becerra in what might be a violation of legal ethics has made public statement about Rev, Garcia as if he is already convicted. Bacerra said, "Crimes like those alleged in this complaint have no place in our society. Period.  We must not turn a blind eye to sexual violence and trafficking in our state. At the California Department of Justice, we will do everything we can to prevent and combat these heinous crimes so that our communities are safe. If you see something, report it and we will vigorously pursue justice."
Co-counsel Allen Sawyer argued that Becerra should not be giving press conferences.
"Accusations are not evidence and Mr. García has been the subject of outrageous government conduct and an irresponsible press conference by the Attorney General of California that violated accepted standards of professional responsibility required of prosecutors. Mr. García is presumed innocent and entitled to an untainted jury pool," Sawyer said.